Dave & Deb from The Planet D adventure travel blogger fame will visit Explorers' Edge from February 12 to 14, 2014. The globe trotting couple will experience two Ontario Parks in the region that are open for business in winter and which offer innovative seasonal programming.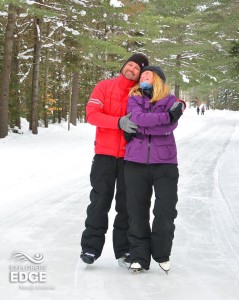 Stops include a visit to Arrowhead Provincial Park to check out the beautiful Ice Trail and the superb Nordic skiing trails. A winter picnic will be provided by the innovative folks at Iron Skillet Custom Catering in Kearney. Dave & Deb will also enjoy a guided snowmobile excursion with Back Country Tours in Dwight, lunch at The Moose Cafe (also in Dwight), and a guided snowshoe trek into Algonquin Park with Gord Baker from Algonquin Outfitters (at Oxtongue Lake).
They'll rest their heads (and enjoy some outdoor adventure) at Cedar Grove Lodge, a member of the independently owned and operated Resorts of North Muskoka, and enjoy a delightful dinner at The Mill on Main in Huntsville.
And to top it off, on Valentine's Day the dynamic duo will enjoy a romantic one-horse open sleigh ride with Back of Beyond Equine Centre near Port Sydney.
Main Stories Published