This is a great opportunity to meet fellow tourism operators to exchange insights and information, and to build collective enthusiasm for the regional industry before summer is in full swing. Join your colleagues from Algonquin Park, Almaguin Highlands, Loring-Restoule, Muskoka, Parry Sound and South Algonquin.

RTO12 Regional Tourism Summit: "New, Exciting & Inspiring"
In a region that has been challenged by not one – but two natural disasters in less than a year (flooding and Parry Sound 33), the Summit at the Stockey Centre will focus on new, exciting and inspiring things happening across the region despite these and other challenges faced by the industry. We will hear about continued investment and growth that will ensure this is one of the most popular four-season vacation destinations in Canada for generations to come.
AGENDA
9.00 am: Doors open, Meet & Greet
9.30 am: Opening Remarks by RTO12 Chair
9.45 am: Annual update by RTO12 Executive Director
10.15 am: 'New, Exciting & Inspiring: Tourism Operators OPEN MIC' (see below for details)
10.30 am: Break
10.45 am: Guest Speakers – Photographers and outdoor adventurers Rob Stimpson (FRCGS) & Robin Tapley will talk about photographing the wilderness north of Toronto, as well as the upcoming 100th anniversary of the founding of the Group of Seven in 2020 (and what it means for our region).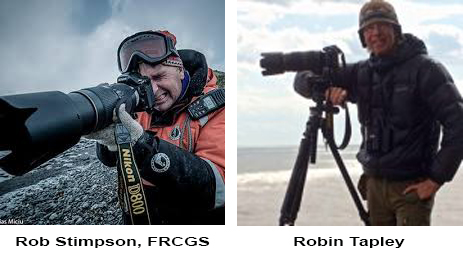 11.15 am: Break
11.30 am: RTO12 AGM (Click here for agenda)
12.00 pm: Break
12.30 pm: Breakout Sessions (see below for details)
2.00 pm: Adjourn
---
Tourism Operator OPEN MIC
Got a project that's changing things for your business or area? Something that's garnered investment, momentum and enthusiasm to grow tourism in the region? Stand up and be heard at the Regional Tourism Summit!  You'll have the mic for one minute to share with industry colleagues what's new, exciting and inspiring for you.
To register to take the stage at our Open Mic session, CLICK HERE.
(If you would like one of your projects presented but would prefer not to speak, indicate that in your submission and RTO12 staff will speak on your behalf. Be heard one way or another! Tell us all the great stuff happening – other tourism stakeholders may be inspired to get involved.)
---
Break Out Sessions
Session One: RTO12 Strategies Update
Kate Monk, Senior Director of Strategy & Communications, and Peter Coish, Kuration
Kate will do a more in-depth presentation on the commercial air service launch and marketing, Rendezvous Canada outcomes, the New York Trade Trip with Destination Ontario, the upcoming Boston Trade Trip, and additional marketing initiatives. She will also present on the work that was undertaken to combat negative media coverage of the 2019 floods and the 2018 Parry Sound 33 fire (as well as lead a discussion on a media relations approach moving forward in more of these situations). CLICK HERE to register for this session.
Session Two: Meet The Other RTOs
James Murphy, Executive Director
James will facilitate a session with executive directors from other provincial RTOs to discuss what is working in their regions and how RTOs can work more closely together for optimal efficiencies and effectiveness. They will also comment on the Ontario Tourism Strategy that is set to be unveiled by the Ministry of Tourism, Culture & Sport this spring. CLICK HERE to register for this session.
We hope you will join us at the annual Regional Tourism Summit on June 18, 2019 in Parry Sound, Ontario.
Click here to register for the 2019 Regional Tourism Summit
at the
Charles W. Stockey Centre  for the Perfoming Arts, Parry Sound, ON