Over the course of July and August,  2018 Explorers' Edge staff will be out in the region interacting with front line staff, using the hashtag #eefrontline.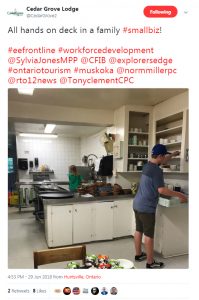 The goal is to gather e-mail addresses from staff so that in the fall our team can go back and solicit valuable information regarding their work experience in the region.  Going one step further, some front line staff will be invited back in the fall for an all-expense paid trip to enjoy the region and its tourism experiences as a tourist.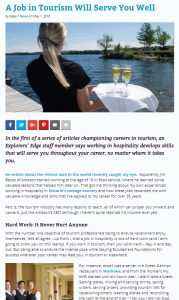 This is an initiative to gather front line intelligence for our increased investment in workforce development that was identified in the Product Development Framework and sanctioned by the Board of Directors at the fall regional tourism planning session.
If your front line staff is interested in providing feedback for our workforce development reconnaissance (and would like to potentially to the region as a guest this fall!) please have them complete the following form: click here or use the following url (copy and paste into your browser)
https://rto12.wufoo.com/forms/explorers-edge-front-line-feedback/
On a related note, our first piece of workforce development content garnered 376K views on social media, 832 comments and 274 shares, which resulted in 9,000 website clicks (with an average time of 2.43 on the article). We will be doing more workforce development content shortly.