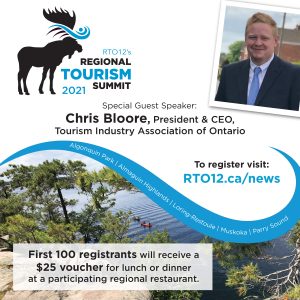 This year's virtual edition will be held on June 24, 2021 via Zoom from
9.30am – 1.00pm.
---
Agenda
9:20am:                Zoom Opens
9:30am:               Welcome, Chair Michael Simonett
9:45am:                The Year in Review (James Murphy)
10:15am:             Explorers' Edge Tik Tok Team (Humber College B. Comm Thesis Students/James Murphy)
10:30am:             RTO12's Organizational Shift: The Region-Centric Approach (Kate Monk)
11am:                   Guest Speaker, Chris Bloore, President & CEO, TIAO (includes Q & A)
11:30:                   Morning Session Ends / Break for RTO12 AGM and lunch
12pm:                   Revenue Generation moving forward (James Murphy)
12:30pm:             New website presentation, Marketing Plan Fiscal 2021-2022 (Kate Monk/Peter Coish)
1pm:                     Closing remarks (James Murphy)
Join us as we launch the Board-sanctioned and ministry-approved 2021-2022 Business & Operational Plan, which is the foundation for our regional recovery and revival strategy, and which highlights RTO12's shift to a destination development organization with regenerative tourism principles at its core.
The summit will feature information about 'the business of tourism' as a catalyst to resiliency and sustainability for tourism stakeholders and local communities. It will include guest speakers, break-out sessions and more intel that will reinforce our organizational commitment to a new 'region-centric approach' for the benefit of all, including the Board's new Vision and Mission Statements.
Click here to read the 2021-2022 RTO12 Business & Operational Plan
NEW THIS YEAR: Local Lunch & Learn – on us!
The first 150 regional registrants for this year's summit will received a virtual $25 local restaurant voucher, which can be redeemed at lunch hour on June 24, 2021 at participating restaurants. (The day's Agenda will allow for a break in presentations so registrants can get their lunches; pre-ordering is suggested.)
Regional Restaurants (only) Invited to Participate!
If you are a regional restaurant that would like to participate in accepting Local Lunch & Learn vouchers the day of the summit, which will then remunerated by Explorers' Edge, please contact Erin Smit [email protected] for next steps. (This will be the same process as accepting Cottage Country Spirit vouchers, but for one day only.)
Thank you to everyone for continuing to support local!
Regional Tourism Summit Slide Decks