About This Report
The report collates a variety of metrics and – taken together – provide a unique and up-to the minute read on the state of the tourism industry in RTO 12. Tourism is a vital part of the region's economy, and accounts for almost 10% of its GDP, and 13% of its total employment.  This report is provided as a service to our operators and other stakeholders and is intended to give insight into the general health of the industry.
Click here to download the full 2014 Q2-3 Tourism Business Indicator Report
Why We Use Indexes
Index numbers are a statistician's way of expressing the di?difference between two
measurements by designating one number as the "base", giving it the value 100 and then expressing the second number as a percentage of the first.
Example: In this report, we are using 2013 as the index base. If the total HST collected in our sample was $110 in 2014, and $100 in 2013, the HST Index for the region in 2014 will be 110.  Indexes allow us to compare trends across different business metrics, such as HST, room occupancy, golf rounds and entries at attractions.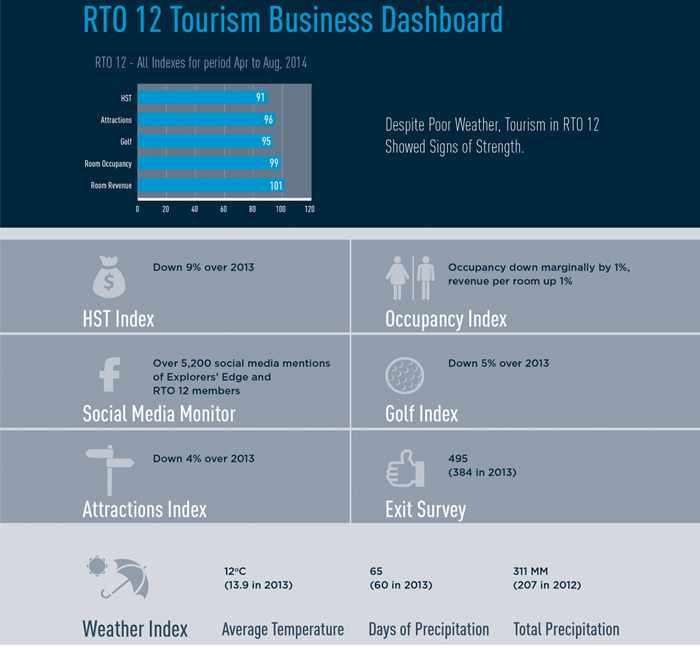 Click here to download the full 2014 Q2-3 Tourism Business Indicator Report
Despite Weather and Consumer Confidence Headwinds
Tourism in RTO 12 is Vital and Strong
No matter what the season, RTO 12 relies heavily on outdoor activities to attract visitors (67% of visitors partake in outdoor/sports activities while in the region). Therefore one of the biggest factors affecting tourism is the weather, and 2014 is a year in which the weather has worked for, and against, business in the region.
The record breaking cold winter of 2014 was a boon to RTO 12, with January and February the busiest months at accommodation operators in years (up a full 10% over 2013). However, that same weather pattern lead to a cooler, wetter summer: for example, in July of 2013 there were seven days when the temperature exceeded 30 degrees; in 2014 there were none.
Given the importance of the outdoors to the RTO 12 tourism proposition, it is not surprising that the weather this summer has impacted businesses like golf courses and attractions.  Both reported lower activity than 2013. However, despite the inclement weather, the summer ended on a high note, with accommodations operators reporting a very strong month – up over 5% over 2013!
These results highlight an opportunity to promote indoor activities related to arts/culture and dining to our SW Ontario target audience. With its new content marketing strategy, RTO 12 has recently committed to raising awareness of these activities across our digital platforms.
In addition to the weather, consumer confidence in Ontario must also be considered. While it has improved since the recession of 2008/2009, consumer confidence is still in negative territory with respect to employment, and neutral with respect to major purchases (house, car, vacations, etc.). As RTO 12's tourism trade depends largely visitors from Ontario (they account for 95% of visits), this pessimism has a direct impact on our tourism industry receipts.
2014 Q2-3 Tourism Business Indicator Report
2014 Q1 Tourism Business Indicator Report
2013 Q4 Tourism Business Indicator Report