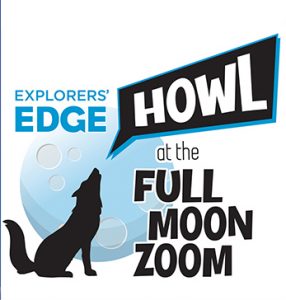 Thank you for registering for the 
'Howl at the Full Moon Zoom' from Explorers' Edge!
Here is the link you will need to join the Zoom presentation on January 28, 2021:
https://us02web.zoom.us/j/87913771456
The event will open at 7:45pm EST
(come gather 'round our virtual fire!)
and commence at 8pm
---
The Night's Program
7:45pm: Start to gather 'round!
8:00pm: Welcome & introductions by James Murphy
8:10pm: Indigenous insights with Great Lakes Cultural Camps
8:15pm: Vocal warm up with the Huntsville Festival of the Arts
8:20pm: Our guide hits the Zoom stage and the panel joins in!
8:50pm: Head outside and howl in your own backyard!
---
Great prizes to be won when you send us your photos!
Head outside after the event and capture a photo of you and yours howling at "the Wolf Moon", then upload your photo image to https://explorersedge.ca/howling-at-the-wolf-moon-photo-contest/ by 12pm (Noon) on February 1, 2021.
We'll post all the great photos to the Explorers' Edge Facebook page and from among the submissions draw winners for exciting prizes, including a guided canoe day trip for four with Canadian Adventure Expeditions, a trip for four with Parry Sound's Islander Adventure Tours to tour Huckleberry Island on beautiful Georgian Bay, $200 in 'Downtown Dollars' from the Parry Sound Downtown Business Association, and fun Explorers' Edge swag! (See contest rules on our website – link will be provided at the event.)
---
Your Host:
James Murphy, Executive Director, Explorers' Edge
James heads the regional tourism organization that promotes tourism in Algonquin Park, Almaguin Highlands, Loring-Restoule, Muskoka, Parry Sound and South Algonquin in the beautiful province of Ontario, Canada. He is proud of the hockey rink he built in his own backyard.
---
Your Guide: Robin Tapley
Co-owner of Canadian Adventure Expeditions, a guide company offering canoe and kayak trips in Algonquin Park and on Georgian Bay, he is also an outdoor adventure instructor at Fanshawe College and a renowned nature photographer. Robin's natural habitat is either in the woods or on the water, and he's particularly fond of Algonquin Park.
---
Guest Presenter: Great Lakes Cultural Camps
Great Lakes Cultural Camps is a year-round mobile Anishinaabe outdoor education centre that brings everything to you. GLCC develops and provides high quality cultural experiences on the land and water that recognize the value of being active in the outdoors, land-based learning, Anishinaabe culture and what it can bring to people's lives.
www.culturalcamps.com
---
The Guest Wolf Pack
Jim Byers
Jim is senior editor at TravelPulse Canada, which covers the Canadian travel industry, and editor-in-chief at Canadian Travel News. He freelances for publications such as The Toronto Star, where he served five years as travel editor, as well as for the Los Angeles Times, Zoomer magazine, AARP's magazine, and more. www.jimbyerstravel.com
---
Dan Watson
Dan is an award-winning theatre artist and producer who has created, performed and taught theatre across Canada, Scotland, France, the United States and Japan. He is Executive Director of the Huntsville Festival of the Arts (HfA), the largest and most comprehensive arts organization in Muskoka. Now in its 28th year, the organization offers an eclectic mix of arts programming to over 20,000 audience members annually. www.huntsvillefestival.ca
---
Remy Smith
Remy is the popular morning host on 99.5 Moose FM in Muskoka. When he isn't on air he can be found reporting on location at many Muskoka events, volunteering around the community, or hanging out at one of his favourite local eateries (when it's allowed!). www.mymuskokanow.com
---
Mercy Turnbull
Mercy Turnbull is almost nine-years-old and lives near Windermere, Ontario. She attends Watt Public School and is a past recipient of the Caring & Kindness award. Mercy loves the outdoors and spend lots of time skiing, hiking, canoeing and swimming all over Muskoka. When she's not outside, Mercy can be found reading and drawing, and inventing new dances and hairstyles. She'll be representing kids from all over the world
---
Q & A
Q: Do I need to download Zoom and have an account to participate?
A: No!
Simply click on the the Zoom link provided at the top of this email and then:
– click the blue "Launch Meeting" button
– click the new line that appears at the bottom reading "Having issues with Zoom Client? Join from your Browser"
– enter your name
– confirm you're not a robot, and you'll be added to the Zoom!
If you do already have an account, simply login as normal.
Q: What if I can't log on to the Zoom that night?
A: Email [email protected] and he will resend you the link to join. (Cut off for registering for this event is 4pm on January 28, so if you are inviting friends or family to participate, be sure to get them registered before then!)
Q: What if the night is cloudy and we can't see the Moon where we are?
A: The Moon is still there and will know you have taken expert howling instruction – so go for it anyway! And remember to upload your file to https://explorersedge.ca/howling-at-the-wolf-moon-photo-contest/ by 12pm (Noon) on February 1st to be entered to win great prizes!
Q: Am I at risk of turning into a werewolf once I have my expert instruction and I head to my backyard to howl at the Moon?
A: Gosh – we don't think so. But if it does happen, definitely get a photo of that and send it to us because lockdowns are super boring and that would make our day.
Got more questions?
You guessed it – email [email protected] and he'll be happy to help!
Thanks for joining the Explorers' Edge 'Howl at the Full Moon Zoom'! Let's keep our spirits up, release some pandemic stress, and really make some noise! Aaaaoooooow!
For more information on the great Canadian wilderness just north of Toronto, visit ExplorersEdge.ca