The 2016-2017 marked the beginning of content marketing Partnerships between the RTO and various tourism businesses, events and stakeholders. These partnerships proved enormously successful and, at the Board's direction and on overwhelming feedback from the Tourism Stakeholder Survey, we will be continuing to offer content marketing partnerships in the upcoming fiscal year.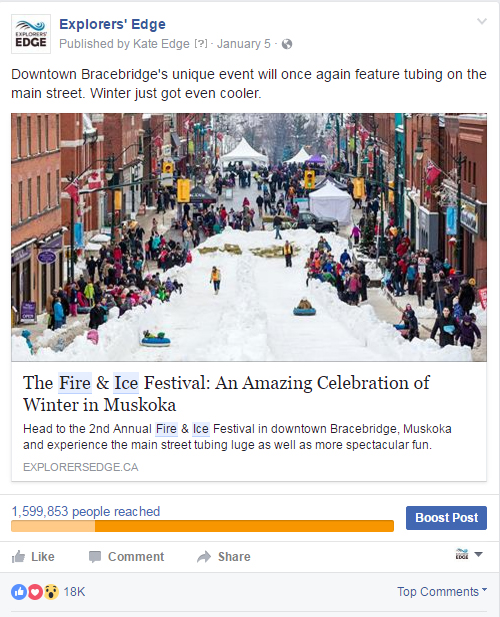 Having lead the Canadian travel industry in content marketing since 2013, RTO12 is now able to leverage our considerable social media following to further business objectives – yours and ours – by producing and promoting content that is mutually beneficial to both partners. By overseeing the alignment of objectives and strategies, the production of content, and the management of promotion, RTO12 helps our partners reach, convince and convert domestic target audiences via Facebook (our most successful social platform).
Alignment with the RTO's strategy is a prerequisite for partnering with us on content marketing moving forward. To that end, the first step in developing a partnership is for interested parties to attend one of two industry information sessions on the program. Details about how the program works, what is expected of both partners and what the cost is will be shared.
Industry Partnership Content Marketing Sessions 2017-2018 
Huntsville Monday, April 3, 2017 ~ 1:00am-3:00pm ~ Hidden Valley Resort (1755 Valley Rd, Huntsville)
Parry Sound Tuesday, April 11, 2017 ~ 10:00am-12:00pm ~ Canador College (1 College Drive, Parry Sound)